Basics
The street races will be unlocked after completing various missions throughout the game. The first batch will be available after finishing Cesar's missions in Los Santos and can be found in Little Mexico marked by the chequered flag on the map. All of the street races are marked by a chequered flag, so they're not hidden or hard to find. Just walk up to one and stand in the red circle then choose which race you want to do. This guide will explain what each race is like, where you have to go, show a map of each route and explain rewards and other details about the races. For all races you'll need to speed around the course grabbing the checkpoints. Each checkpoint will have an arrow showing you the direction of the next one, and they'll also be marked on your radar. You will win $10,000 for each race you successfully win. Once you've finished all of the races you'll be rewarded with a huge $1,000,000!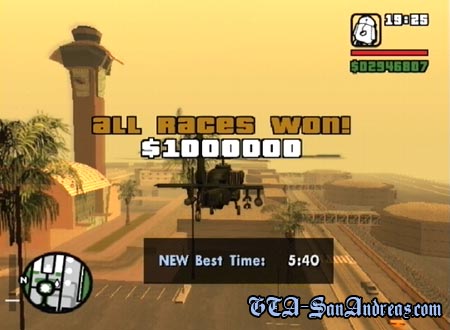 All four locations for the race challenges are:
- Little Mexico, Los Santos
- Downtown, San Fierro
- LVA Freight Depot, Las Venturas
- Las Venturas Airport (Checkpoint Challenges)
Click on a map thumbnail to view the full size version.